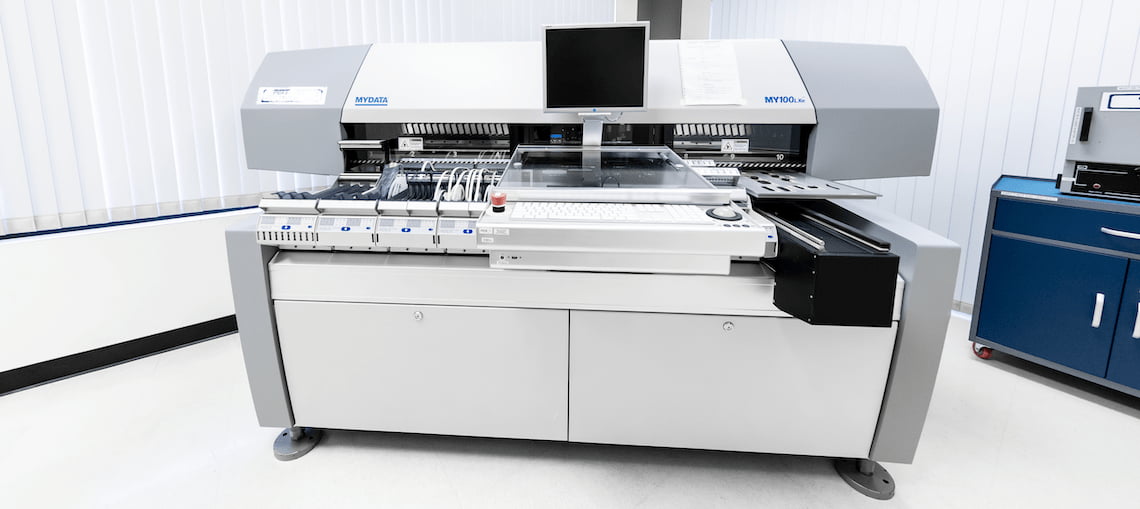 Manufacturing and Rapid Prototyping
High Quality, High Yield Aerospace Electronics Complemented by a Strong Avionics Systems Engineering Team at a variety of Project Scales
NSS Manufacturing
NSS has a state of the art manufacturing facility capable of producing complete systems; end-to-end manufacturing and prototyping solutions for a wide variety of project scales from low production, "one-off" prototyping, custom mock-ups for proposal development, and full-scale production of ready-for-market devices.
NSS designs PCBs (including circuit design, parts selection, and PCB layout), and performs mechanical assembly, circuit card assembly, and product board testing.
NSS manufacturing is capable of thermal testing, nondestructive X-Ray failure analysis, automated and visual inspection to ensure the product is compliant with all specifications. NSS can provide ESD protection, in accordance with ANSI/ESD S20.20-2007, level 0.
AS9100 Certification
We are ISO9001, and AS9100 certified for systems design & development, systems expertise, prototyping and engineering services. Our Quality Manual (Ref. Document QM001) is available upon request.
Our objective for manufacturing is to provide the highest quality by maintaining a low volume operation that is closely integrated with our engineering capabilities.
Quality Control
We understand the impact of manufacturing delays and suppliers' performance on our customers' businesses and thus built our manufacturing model to address these concerns. One of the key considerations for providing manufactured products is our team's extensive experience in the design, development, and manufacturing of aerospace electrical and electronic hardware. Keeping manufacturing in-house is key to controlling quality and lead time.
Independent quality management personnel monitor all manufacturing operations and are directly accountable to the president.
ESD Protection
In accordance with ANSI/ESD S20.20-2007, level 0
Surface Mount Technology
NSS uses the MYDATA Surface Mount Technology (SMT) line which can produce boards up to 22.6" X 20" with board thickness ranging from 0.016" to 0.24". We can use component part geometries of 0201 and 01005. We can place chips (from 01005) (1), SOIC, PLCC, TSOP, QFP, BGA, flip chip, odd-shape, surface-mount connectors, through-hole components, CSP, CCGA, DPAK, Alcap, and Tantalum.
We have Level 4 traceability for both components down to the Manufacturers lot level and the associated further process operations.
Solder Paste
Application of the solder paste is done with a MYDATA M500 solder jet printer to ensure the highest quality of solder placement and ensure agility and flexibility in the solder application process. We are capable of manufacturing both RoHS or non-RoHS designs.
Reflow Oven
NSS uses the IBL Vapor Phase oven SLC 509 providing an exact thermal profile to ensure the highest quality.
Environmental Stress Screening (ESS)
NSS has a thermal test CSZ chamber with vibration capability. Temp range is -70C to +190C; Capacity 16 Sq. Ft. The test chamber also has an option for a vibration table which allows us to do both temperature cycling and vibration.
3D Printing
3D Printing using Stratasys Equipment is very helpful in developing mechanical parts or packaging – we build our enclosures using this approach before building the final product.
Parts Storage
MYDATA Reel Storage Tower for electrical components inventory management. The Storage Tower communicates with the MYDATA Surface Mount computer, tracking parts usage and quantities.